Aluminum Housed - Power Resistors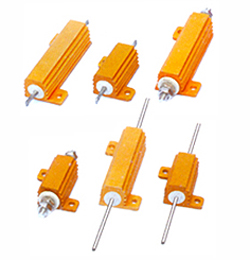 K2 Engineers is a well known name in the industry for manufacturing and supplying excellent quality of Aluminium Housed Power Resistors. Our product is with international standards. Our Aluminium Housed Power Resistors are robust in nature. As we use best quality of raw material our Aluminium Housed Power Resistors are durable for long time and thus economical. Our Aluminium Housed Power Resistors are flame proof with comparatively high tolerance having number of industrial applications and professional applications. Some examples are heavy electrical industry, electrical equipments and control panels. We export Aluminium Housed Power Resistors to Middle east and Russia.
---
Specification
Power Ratings
25 Watts to 50 Watts
Ohmic Value
0.1Ω to 10KΩ
Ohmic Tolerance
Standard ±5%. Closer Tolerances
Available.
Temprature Co-efficient
±50ppm/°C to ±200ppm/°C
Dielectric Strength
2000V a.c. for 1 Minute
Insulation Resistance
>2000MΩ at 500V a.c.
Overload
5X for 5 seconds
Features
• High Power to Size Ratio.
• Choice of Terminations:
→ Standard Leads
→ Copper Wire Lead
→ Screw Terminals.
• NON-INDUCTIVE Types Available.
• High Temperature Resisting Hard Anodising Aluminium Housing.
• Good Stability & Reliability Against Severity of Climatic Conditions & Other Environmental Abuses.